Tee Ping Lim (Executive Director)
JS Valuers Property Consultants (Melaka) Sdn Bhd
---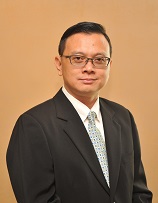 Field of specialisation:
Valuation of all types of properties including plants and machinery for various purposes including public listing exercise
Real Estate Agency
Property/Project Consultancy and Management in relation to joint venture, privatisation projects, land acquisition, assessment appeals, stamp duty and real property gains tax
Academic and professional qualifications
Bachelor of Surveying (Property Management), University of Technology Malaysia
Registered Valuer and Estate Agent with the Board of Valuers, Appraisers and Estate Agents Malaysia
Member of Royal Institution of Surveyors Malaysia[MRISM]
Member of The Royal Institution of Chartered Surveyors, United Kingdom [MRICS]
Licensed Auctioneer in Melaka
Professional experiences
Worked as a valuer since 1994 and registered as a qualified professional valuer since 1998. Joined the Group since 2004 and currently mainly in charge of valuation of all types of properties, auctions, real estate agency, property consultancy and management. He is the Executive Director of the Group's Melaka Office.