Yap Tian Sing (Executive Director)
JS Valuers Property Consultants (Perak) Sdn Bhd
---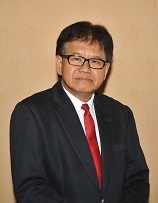 Field of specialisation:
Valuation of all types of properties including plants and machinery for various purposes including public listing exercise
Real Estate Agency
Property/Project Consultancy and Management in relation to joint venture, privatisation projects, land acquisitions, stamp duty and real property gains tax and also direct property consultation/management
Academic and professional qualifications
Diploma in Valuation Surveying from Stoke-On-Trent Cauldon College, North Staffordshire, England (now known as Staffordshire University)
Registered Valuer and Estate Agent with the Board of Valuers, Appraisers and Estate Agents Malaysia
Member of Royal Institution of Surveyors Malaysia [MRISM]
Member of Persatuan Penilai Dan Perunding Harta Swasta, Malaysia [PEPS]
Member of The Royal Institution of Chartered Surveyors, United Kingdom [MRICS]
Professional experiences
Worked as a valuer since 1987 and registered as a qualified professional valuer since 2003. Joined the Group since 2005 and currently mainly in charge of valuation of all types of properties, auctions, real estate agency, property consultancy and management. He is the Executive Director of the Group's Ipoh Office.